Thoughtfully Designed from the Beginning
Fairhaven sits on 3.3 acres in a quiet neighborhood in Denton, Texas about 35 miles north of the Dallas-Fort Worth metroplex. Texas architect O'Neil Ford designed the original property. His buildings blend into and showcase the environment where they are built by using natural elements and materials in concert with the best industrial materials available at the time.
O'Neil Ford designed Fairhaven with seniors in mind. The building features two wings connected by an enclosed center walkway. Landscaped courtyards are visible through picture windows in each room, with multiple lounges and a distinctive main lobby fireplace. One of his design choices is still unique even today: Rooms are staggered so that apartment doors open to the hallway don't look into someone else's room.
The update and renovation was not without challenges. The entire structure of the building, even the roof, was made of solid concrete. It was very unique for its time and it was made to last, by design. The intentions of the original architect, O'Neil Ford, have been preserved while updating and adding the newest and most efficient technology and amenities.
Modern Updates:
Conveniently located nurse call stations
Wi-Fi throughout the building
Updated fire and safety systems
New plumbing + HVAC with individual room
Unique Features:
Beauty salon
Multipurpose room for cooking classes, yoga and private parties
Restaurant
Bistro
Great room with relaxing fireplace
Library
Beautiful Outdoor Areas:
Courtyard
Outdoor fireplace with sitting area
Natural spring-fed koi pond
Sits on an acre lot with beautiful large shade trees and wooded walking trails
The Fairhaven building and parking lots take up about two-thirds of the property. The southern third of the property has been lightly manicured to include walking trails and a spring-fed koi pond. The north and east sides of the building have wooded setbacks that screen the building from adjoining properties. Being surrounded by trees helps lend an air of privacy and natural beauty to the property.
A light-filled living room with refurbished original, wood-framed, floor-to ceiling glass windows is a welcoming shared space.
"This isn't a historic preservation, where you bring it back exactly as it was. This is a restoration, making new life out of the building."
– Nick Bruhn of Pi Architects
An original copper-hood fireplace in the main great room makes a beautiful and functional gathering place for residents.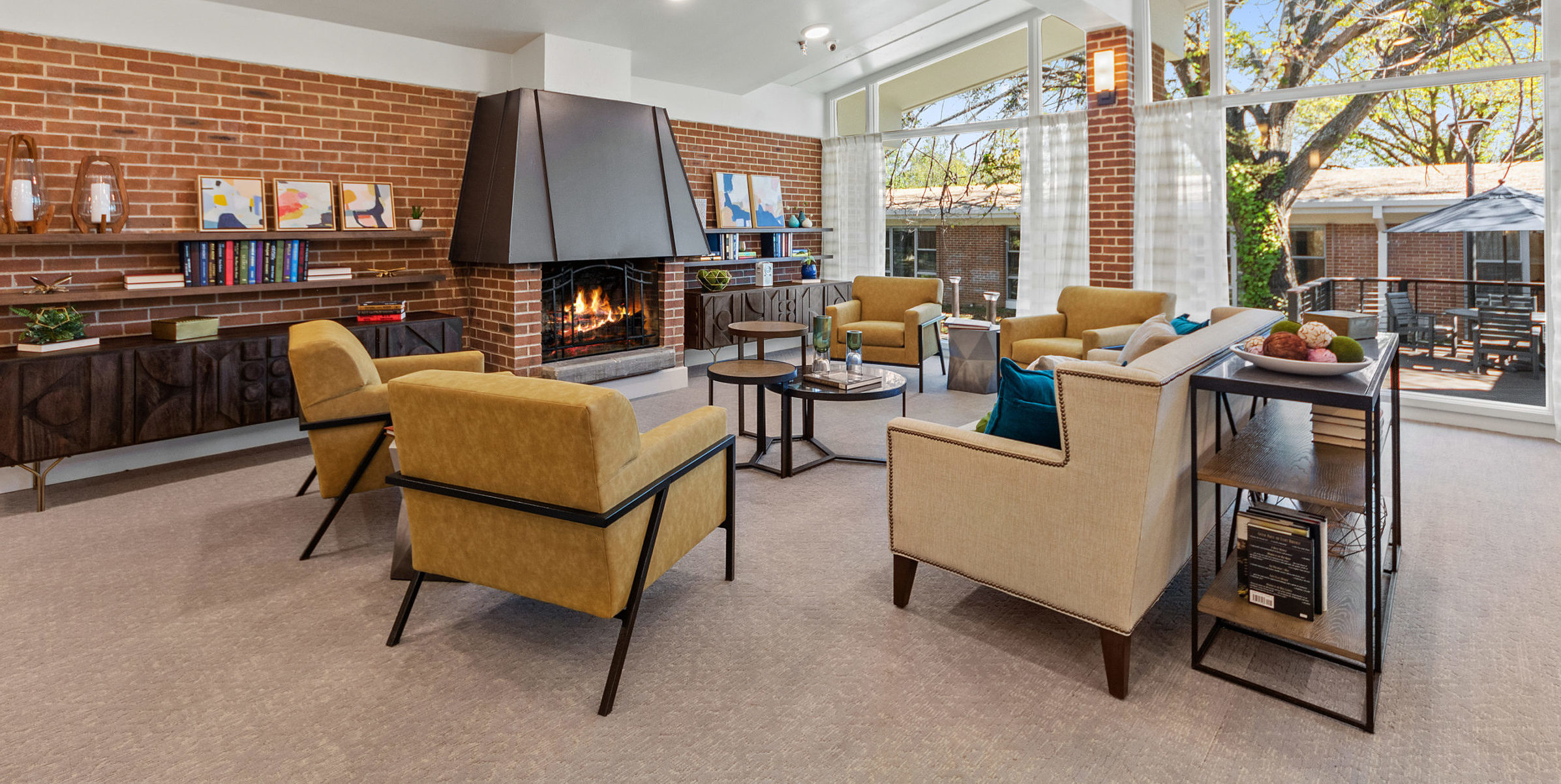 Enjoy a peaceful moment in our courtyard near the natural spring-fed koi pond.